MOTTO: I take my job seriously as an editor, subber and segmenter.  When I volunteer, I'm there.  I don't volunteer when I feel like it, I just do it.  If I made that promise to be on the team, then I'm there.  If I don't show up, I'm either sick, dead, or my internet has failed me.  I don't like it when people volunteer and don't show up more than 50% of the time.  When you volunteer, make sure you will be there.  If life calls, then let us know to make adjustments so the team isn't slowed down.  DON'T VOLUNTEER JUST TO SEE YOUR NAME ON THE FRONT PAGE.  
TO MY VIKI FAMILY:
Family is not always blood.
It's the people in your life who want you in theirs,
the ones who accept you for who you are.
The ones who would do anything to see you smile,
and who love you no matter what…

The poster I received from INFINITE after the Hangout on Google+. The best day of my life!

MY SEVEN INFINITE HUSBANDS~ HANDS OFF!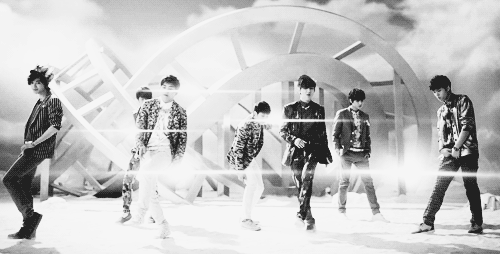 ---
"Sheree Noona likes it . . . HARDCORE"
 
My Top (Favorite) Dramas
(Does not mean I have (some I have) worked on them, these are the dramas that I have liked the most in this running order.)
Goblin (Korea)
Love Me If You Dare (China)
Nirvana In Fire (China)
Love O2O (China)
Because of Meeting You (China)
W (Korea)
What Happens To My Family (Korea) 
My Love From The Star (Korea)
Flower Boy Ramyun Shop (Korea)
Tunnel (Korea)
Behind Your Smile (Taiwan)
Across the Ocean to See You (China)
Unstoppable High Kick (Korea)
Weightlifting Fairy Kim Bok Joo (Korea)
Ice Fantasy (China)
Decoded (China)
Healer (Korea)
Two Worlds of Love (Thailand)
Kill Me Heal Me (Korea)
Battle of Changsha (China)
Strong Woman Do Bong Soon (Korea)
Fifteen Years of Waiting for Migratory Birds (China)
The Legend of the Blue Sea (Korea)
Pretty Li Huizhen (China)
Addicted (China)
Padiwarada (Thailand)
One in my Heart (Thailand)
Heated Desire (Thailand)
Minami-kun no Koibito (Japan)
Go Princess Go (China)
Tarm Ruk Keun Jai (Thailand)
Marry Me or Not (Taiwan)
Chief Kim (Korea)
V-Focus (Taiwan)
Whan a Snail Falls in Love (China)
The Starry Nigh, The Starry Sea (China)
Romantic Dr. Kim (Korea)
Better Man (Taiwan)
Taste of Love (Taiwan)
Misaeng (Korea)
Wuxin: The Monster Killer (China)
The New World (Taiwan)
Six Flying Dragons (Korea)
Good Times (China)
Go! Goal! Fighting! (China)
The Classics of Mountains and Seas (China)
The Swordsman (China)
Tomorrow With You (Korea)
U-Prince Series (Thailand)
Ouroboros (Japan)
Ghost (Korea)
Moonlight Drawn by Clouds (Korea)
Master's Sun (Korea)
Hi! School: Love On (Korea)
A Gentleman's Dignity (Korea)
Addicted (China)
Heart to Heart (Korea)
Heartless City (Korea)
Nine: Time Travel Nine Times (Korea)
Replay 1997 (Korea)
Nodame Cantabile (Japan)
Black & White (Taiwan)
City Hunter (Korea)
Gaksital/Bridal Mask (Korea)
Mysterious Incredible Terminator (Taiwan)
The Innocent Man (Korea)
Warrior Baek Dong Soo (Korea)
Rich Man, Poor Woman (Japan)
Ikemen Desu Ne (Japan)/ You're Beautiful (Korea)
Smile, You (Korea)
It Started With A Kiss 1 & 2 (Taiwan)
Choseon Police 3 (Korea)
As High As The Sky, As Wide As The Earth (Korea)
Secret Garden (Korea)
Full House (Korea)
Oh My Venus (Korea)
Shut Up Flower Boy Band (Korea)
Smiling Pasta (Taiwan)
Ex-Girlfriend's Club (Korea)
Office Girls (Taiwan)
Bromance (Taiwan)
Love Cuisine (Taiwan)
Moon River (Taiwan)
Let's Fight Ghost (Korea)