Resuming normal editing work after convention and car accident. Thank you for all your love and support!  ❤
Current Workload (Updated Regularly)
Siege in Fog ➙ 11 episodes ready for final edit ➙ 27 until finished (Anticipating more episodes to be ready for final edit in the next few weeks)
Sweet Combat ➙ 0 episodes ready for final edit ➙ 4 until finished (Anticipating t-editing completion in next few weeks!)
Here to Heart ➙ 2 episodes ready for final edit ➙ 15 until finished (slowly getting there with t-editing)
Love and Pi ➙ 2 episodes ready for final edit ➙ 11 until finished (slowly getting there with t-editing)
All Out of Love ➙ 2 episodes ready for final edit ➙ 65 until finished (in limbo due to t-editor inactivity)
Our Glamorous Time ➙ STILL FIGURING OUT THIS CHANNEL! Stay tuned for updates.
Hot-Blood Dance Crew ➙ 8 episodes until finished (on hold until some other projects are done)
Surgeons ➙ On hold until further notice
As you can see, I have a lot of episodes to handle. Please be patient as I work through all my episodes :) It takes me 2-6 hours per episode, depending, so I can only do so many episodes per day.
lunelis: lo͞on lē [moon lily] French.
Hi! I'm Kriss (Kristen). On Viki I mostly do English editing work, but I love working as a manager, too. As you can tell, I've been on Viki since the beginning, and I've watched the community grow and change over the last nine years. I started out as just a viewer, but then got into volunteering in 2012. I've worked as a segmenter, moderator, editor, and manager.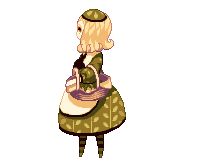 I like sleeping and reading, and I'm an artist in the real world. When I'm not on Viki, I'm likely reading, reviewing, collecting, and organizing my library of books. I suffer from severe, frequent headaches, so sometimes I have to take a few days off from Viki to recover. 
Please, always feel free to message me! If you get no response, please resend! Things get lost in my inbox easily; I recieve a lot of PMs and things slip by me. My apologies!
My first language is English and it is the only language I consider myself perfectly fluent in. As a high school student, I studied German for two years and Japanese for one. I do not recall much Japanese, but I can still read German at an elementary level. I have watched TV in Chinese and Korean for approximately eleven years, so from immersion I am familar with a variety of words and phrases.
Ironically, despite my username being French, I do not speak the language at all.
---
Current Projects
(Icon coming soon)
Upcoming Projects:
Potential Projects (in need of licenses):
Completed Projects