Eclipse late test   |   Test for late segment2  |   Test for early segment   |    Test for on-time segment
  🆂 Daebak  | 81-93 & 98-117 en français = 33 épisodes traduits
  Pink Lipstick [KR] | 149 Ep
  🆃 English
  ✂️
  The Four Scholars of Jiangnan [CH] | 42 Ep
  ✂️
  Recettes de cuisine
English 

🅢 

(Old French moderator for ep 1-85)

 
  🅒
 & English 

🅔 ✂️

 (Old French moderator + Old English moderator for ep 1-55)
  🅢🅔🅜🅒 

✂️
   Cho's Daily Cook [KR]
  Recettes de cuisine
  🅢🅔🅜
 & English 

🅢

 
  Demon Girl [CH] | 20 Ep
  Problème de fan channel
  🆂
   Code Lyoko [FR]
   Restricted access
   🆂
KEEP MOVING ON
Source : Guides Nssa http://nssacademy.weebly.com/channel-roles-guide.html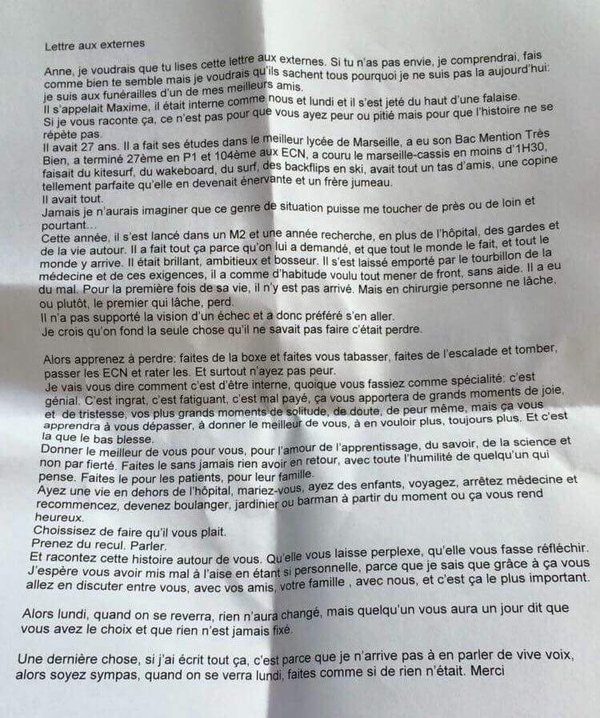 Letter to externs,
Anne, I would like you to read this letter to externs. If you don't want to, I will undestand, do as you wish but I woud like that they all know why I'm not here today: I'm at one of my best friends funeral.
His name was Maxime, he was an intern like us and on Monday, he threw himself off a cliff. If I'm telling you this, it's not so that you get scared or take pity but so that the story doesn't repeat itself.
He was 27 years old, he studied in the best high school in Marseille, he graduated from high school with the honorifics, he ended 27th in his first year of medicine school and 104th in the national exam of medicine, he ran the marathon Marseille-cassis in less than 1h30, he practiced kitesurfing, wakeboarding, surfing, he did blackflips while skiing, he had a ton of friends, a so perfect girlfirend that she was becoming annoying and he had a twin brother.
He had everything.
Never I would have imagined that this kind of situation could afffect us in some way and yet...
This year, he threw himself in a second year of master and in a research year, in addition to the hospital, shifts and life. He did all of this because this is what he was asked to, and that everybody does it, and that everybody succeeds. He was brilliant, ambitious and hardworking, he let himself being carried away by the whirlwind of medecine and its requirements, he wanted to do everything at the same time as usual, without any help. He had a hard time. For the first time in his life, he didn't succeed. But in surgery, no one gives up, or it's more like the first one who gives up loses.
He couldn't bear the vision of failure and he chose to go away.
I think that deep down, the only thing that he couldn't do was to lose.
So learn to lose, do boxing and get your ass kicked, go climbing and fall, take the national medicine exam and fail. And most importantly, don't be afraid.
I'm going to tell you how it is to be an intern, whatever your speciliaty is, it's awesome. It's ungrateful, it's exhausting, it's poorly paid, it will bring you great moments of joy, and of sadness, your greatest moments of loneliness, of doubt, even of fear, but it will teach you how to surpass yourselves, to give the best you have, to want more and always more. And this is where the bottom can hurt you.
Give the best of yourself for you, for the love of learning, of knowledge, of science and not for pride. Do it without getting something in return, with all the humility of someone who thinks. Do it for your patients, for their family.
Have a life outside of the hospital, get married, have children, travel, quit medecine and begin again, become a baker, a gardener or a barman from the time it makes you happy.
Choose to do what you want to.
Take a step back. Talk.
And tell this story around you. That it gets you puzzled, that it makes you think.
I hope that I have made you uncomfortable being so intimate, because I know that thanks to this, you will discuss about it among yourselves, with your friends, your family, with us, and that's the most important thing.
So on Monday, when we will see each other again, nothing will change, but someone had told you one day that you have the choice and that nothing is never fixed.
Last thing, if I'm writing all of this, it's because I can't talk about it in person, so be nice, when we'll see each other on Monday, just pretend nothing happened. Thank you.