https://searchingforsyria.org/en/
https://searchingforsyria.org/fr/a-quoi-ressemblait-la-Syrie-avant-la-guerre/
We live with our conscience  |  On vit avec sa conscience
To be human is to love even when it gets too much, I'm not ready to give up.
Some life changes are calling me back to reality. Hope I can grasp some free time to contribute!
I will miss this feeling & this community for sure! Good luck to volunteers keeping this website alive!
I was training in segmenting:  
Eclipse late test   |   Test for late segment2  |   Test for early segment   |    Test for on-time segment
I'm a big child, sometimes an adult, sometimes a newborn, sometimes a grandma, sometimes I feel like I don't know 
Legend : FRENCH   🆂 Subtitler   🆃 Transcriber   🅴 Editor     🅼 Moderator     🅲 Channel Manager   ✂️ 

Segmenter

   🌟 

Recruiting    
📅 Release schedule : Monday: TROS, trendsetters
   The Return of Superman | Le Retour de Superman [KR]
  🆂 Daebak  | Ep 81-93 & 98-118 & 120-122 & 126-129 & 131, 132 en français | in French = 43 épisodes traduits | translated
 The Last Time I Saw Paris [USA] | Movie
  🅼
  Brain [KR] | 20 Ep
  🆂      ✂️Fixing 
  New Heart [KR] | 23 Ep 
  🆂 
  Husbands' Secret Stash [CH] | 47 Ep
  ✂️
Former participation on & wishing good luck to the next gen:
  Recettes de cuisine
Old English 

🅢 

for ep 1-112 & Old French moderator for ep 1-85

 

  Makeup : Old Co-cm with 

Philar02

 for ep 1-83

🌟 
 

[Old 

🅒
 & Old English 

🅔

& Old 

✂️

for ep 1-83] & [Old French moderator + Old English moderator for ep 1-55]

  Mode de vie coréen
 

[Old 

🅢🅔🅜🅒 ✂️

for ep 1-68]
Legend : FRENCH subtitler (except precisions)
Point the cursor on the image to see the title of a drama 🌙
 🆂🅴co🅼                              🆂🅴                                                                          🆂 ✂️
  Cho's Daily Cook [KR]
  Recettes de cuisine
  🅢🅔🅜
 & English 

🅢
  Itsjinakim [KR]
  🅢🅔🅜
Complete this license form: 
  Demon Girl [CH] | 20 Ep
  Problème de fan channel
  🆂
   Code Lyoko [FR]
   Restricted access
   🆂
KEEP MOVING ON
Source 
: Infographie de Millefleurie pour Viki U
♦ 

Qu'est-ce qu'un Gestionnaire de Chaîne (GC ou CM) 

 
Un GC est un décideur majeur qui s'assure que la chaîne fonctionne sans problème.
♦ 

Missions d'un Gestionnaire de Chaîne :
• Promouvoir la chaîne
• Recruter du personnel : des modérateurs dans toutes les langues, des segmenteurs
• Superviser la chaîne : organiser les informations importantes qui servent de référence pour l'équipe, gérer les vidéos en verrouillant les segments et les sous-titres, mettre à jour la progression de la chaîne dans les discussions d'équipe, notifier les modérateurs des autres langues.
• Garder la chaîne active
• Communiquer avec Viki au nom de l'équipe en cas de problèmes.
 
♦ Qu'est-ce qu'un modérateur 

 
Un modérateur est un chef d'équipe de sa langue. En tant que participant actif, il a une expérience approfondie dans sa langue et il est familier avec le processus de sous-titrage afin de reconnaître les problèmes lorsqu'ils surviennent.
♦ Missions d'un modérateur :
• Communiquer avec son équipe et la GC
• Recruter du personnel : les sous-titreurs et les éditeurs de sa langue
• Verrouiller les sous-titres
• Organiser les informations importantes qui servent de référence pour l'équipe
• Finaliser les sous-titres : il est responsable de la traduction complète de tous les épisodes dans sa langue
• Vérifier la qualité : l'édition 
 
♦ Qu'est-ce qu'un segmenteur  
Les segmenteurs posent les fondations pour les sous-titres en coupant une vidéo en compartiments chronométrés. De bons segments forment les bases pour de bons sous-titres, il est donc important d'apprendre à couper des segments avec précision.
♦ 2  Programmes d'entraînement pour apprendre la segmentation : Seg 101 et NSSA (cliquez sur l'image pour visiter leur site et vous y inscrire)
Source : Guides Nssa http://nssacademy.weebly.com/channel-roles-guide.html
Les  étapes
1. Conditions pour être sous-titreur sur Viki :
Connaître l'anglais et le français car les traductions se font en majorité de l'anglais au français sur Viki.
2. Comment rejoindre une équipe de traduction française ?
Le modérateur est la personne chargée du recrutement des traducteurs français. C'est lui qu'il faut contacter si vous voulez traduire un drama, sachant qu'il faut un peu patienter avant d'avoir sa réponse, n'hésitez pas à lui renvoyer un message au bout d'une semaine. S'il n'y a pas encore de modérateur français, contactez le gestionnaire de chaîne. 3 façons pour rejoindre une équipe de traduction :
♦ Efficace : Du drama qui vous intéresse au modérateur français
Allez sur la page d'un drama en cours de traduction que vous voulez traduire > Vérifiez au préalable la cover page française qui indique si l'équipe française recrute ou ne recrute plus > cliquez sur le mur des bénévoles > puis sur l'icône du modérateur français pour aller sur sa page de profil > envoyez-lui un message en précisant [Nom du drama + Rôle que vous voulez jouer = Sous-titeur ou Editeur]
♦ Efficace : Du modérateur français aux dramas qui pourraient potentiellement vous intéresser
Allez sur les pages de dramas et regardez systématiquement les profils des modérateurs français qui contiennent la liste de leurs projets en cours de traduction > Contactez-les.
♦ Moins efficace que les 2 autres méthodes : l'annonce
Proposez-vous sur le forum de Viki : https://discussions.viki.com/t/liste-de-personnes-voulant-traduire-et-editer-des-dramas/542
Tous les traducteurs utilisent ce guide pour traduire des vidéos sur Viki.
Voir le rectangle vert juste au-dessus.
Il existe 1 guide de référence pour tout segmenteur : http://nssacademy.weebly.com/segmenting-guide.html
La synthèse de ce guide : http://nssacademy.weebly.com/segmenting-guide-quick-reference.html
• Je veux traduire mais je ne sais pas qui contacter ? 
Le modérateur français est la personne responsable du recrutement des traducteurs français. Allez sur le mur des bénévoles pour accéder à son profil et lui envoyer un message.
S'il n'y a pas de modérateur français, contactez le gestionnaire de chaîne.
• Je veux segmenter mais je ne sais pas qui contacter ?
Contactez le gestionnaire de chaîne.
• J'ai un problème technique sur Viki
1. Consultez d'abord le centre d'assistance de Viki = Viki Help Center
2. Si cela ne fonctionne toujours pas, consultez le forum de Viki si votre réponse n'y s'y trouve pas ou postez votre problème 
3. Contactez le personnel d'assistance de Viki sachant qu'il peut y avoir un long temps d'attente = Viki Support
https://www.viki.com/users/kris_o/about
https://www.viki.com/users/jimmy_l/about
https://www.viki.com/users/camiille/about
https://www.viki.com/users/anaheli/overview
• J'ai envie de regarder un drama mais il n'est pas sur Viki
Demandez à ce que Viki achète les droits de diffusion du drama pour l'afficher sur son site web sachant qu'il faut que beaucoup de monde fasse aussi la demande : formulaire de licence
• J'ai envie de papoter 
Le forum de Viki est un espace de partage :)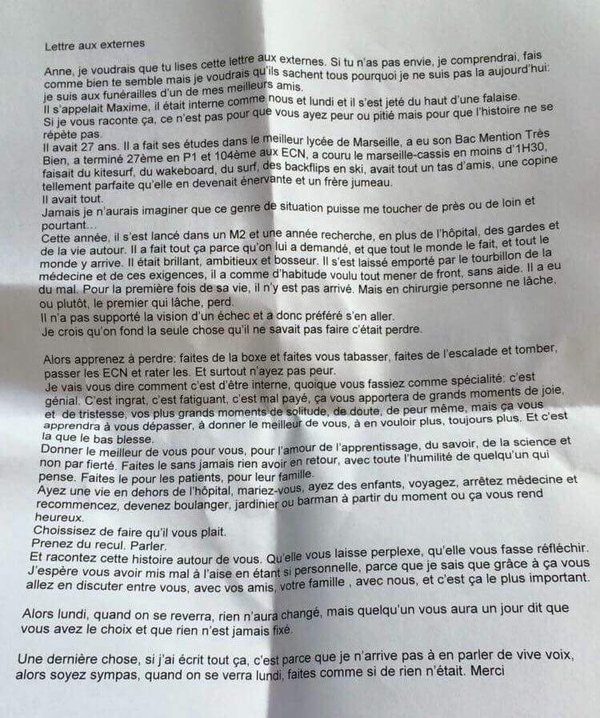 Letter to externs,
Anne, I would like you to read this letter to externs. If you don't want to, I will understand, do as you wish but I would like that they all know why I'm not here today: I'm at one of my best friends funeral.
His name was Maxime, he was an intern like us and on Monday, he threw himself off a cliff. If I'm telling you this, it's not so that you get scared or take pity but so that the story doesn't repeat itself.
He was 27 years old, he studied in the best high school in Marseille, he graduated from high school with the honorifics, he ended 27th in his first year of medicine school and 104th in the national exam of medicine, he ran the marathon Marseille-cassis in less than 1h30, he practiced kitesurfing, wakeboarding, surfing, he did backflips while skiing, he had a ton of friends, a so perfect girlfriend that she was becoming annoying and he had a twin brother.
He had everything.
Never I would have imagined that this kind of situation could affect us in some way and yet...
This year, he threw himself in a second year of master and in a research year, in addition to the hospital, shifts, and life. He did all of this because this is what he was asked to, and that everybody does it, and that everybody succeeds. He was brilliant, ambitious and hardworking, he let himself be carried away by the whirlwind of medicine and its requirements, he wanted to do everything at the same time as usual, without any help. He had a hard time. For the first time in his life, he didn't succeed. But in surgery, no one gives up, or it's more like the first one who gives up loses.
He couldn't bear the vision of failure and he chose to go away.
I think that deep down, the only thing that he couldn't do was to lose.
So learn to lose, do boxing and get your ass kicked, go climbing and fall, take the national medicine exam and fail. And most importantly, don't be afraid.
I'm going to tell you how it is to be an intern, whatever your specialty is, it's awesome. It's ungrateful, it's exhausting, it's poorly paid, it will bring you great moments of joy, and of sadness, your greatest moments of loneliness, of doubt, even of fear, but it will teach you how to surpass yourselves, to give the best you have, to want more and always more. And this is where the bottom can hurt you.
Give the best of yourself for you, for the love of learning, of knowledge, of science and not for pride. Do it without getting something in return, with all the humility of someone who thinks. Do it for your patients, for their family.
Have a life outside of the hospital, get married, have children, travel, quit medicine and begin again, become a baker, a gardener or a barman from the time it makes you happy.
Choose to do what you want to.
Take a step back. Talk.
And tell this story around you. That it gets you puzzled, that it makes you think.
I hope that I have made you uncomfortable being so intimate because I know that thanks to this, you will discuss it among yourselves, with your friends, your family, with us, and that's the most important thing.
So on Monday, when we will see each other again, nothing will change, but someone had told you one day that you have the choice and that nothing is never fixed.
Last thing, if I'm writing all of this, it's because I can't talk about it in person, so be nice, when we'll see each other on Monday, just pretend nothing happened. Thank you.
Sometimes, I think that you don't need to do all of this to feel better, you don't need all of this. Sometimes, I think that you just want to be happy so instead of losing your time feeling bad or angry at things of no importance, just use your time to feel happy because what's the purpose of being alive and being sad? While you are being angry, 1 second, 1 minute, 1 month, 10 years have gone by filled with anger and regret, nothing has changed except feeling more sad, broken, emptier than before. 1 second, 1 minute, 1 month, 10 years you have lost to be happy.
You will never gain back this time. Time goes freely, you just have to live knowing that. Time is never recoverable, it's gone.
C'est une remise en question éternelle.
S ee you again,
I t's not goodbye,
S eparate ways we may go,
T o achieve new dreams.
A ll the memories together
R emember and cherish forever...
"La vie en Corée est devenue une succession de souffrances inutiles, nous perdons notre temps et notre vie comme cela. Nous nous empêchons finalement nous-mêmes d'être heureux."
"Éducation ultra-sélective, compétition professionnelle permanente, culte de la richesse, de l'apparence, la Corée du Sud ne semble jamais à court d'idées pour durcir toujours plus le contrôle social de sa population. Des tendances souvent extrêmes, mais acceptées comme le prix du miracle coréen. La discipline du peuple, son intégration des règles communes, sont encore perçues comme la clé d'un développement économique qui fut à Séoul plus rapide au 20e siècle que partout ailleurs dans le monde.
La Corée du Sud a atteint cet objectif-là. Devenir riche, devenir puissante, devenir la projection qu'elle a rêvée d'elle-même. Et après ? La jeunesse coréenne n'a pas connu les années noires, la croissance à deux chiffres, elle ne fonctionne plus avec les mêmes repères que ses parents. Et ne veut donc plus supporter ses règles, vécues comme dictatoriales et inhumaines.
Résultat, 9 jeunes Coréens sur 10 souhaitent quitter le pays. Et beaucoup franchissent le pas. Destination l'Europe, l'Amérique ou l'Australie. Des médecins deviennent ouvriers agricoles, pour pouvoir bénéficier d'une carte verte et d'un environnement plus paisible pour leur famille. Des ingénieurs apprennent la soudure, pour un visa d'ouvrier vers l'Amérique.
Ce phénomène crée sa bulle économique : agences d'émigration, écoles pour apprendre des métiers manuels, cours de langue. C'est une course effrénée, qui pourrait bien déséquilibrer la démographie de toute la Corée."
"Rythme de travail effréné, dévouement total à l'entreprise, pression scolaire maximum : les Coréens du Sud s'imposent une cadence infernale. Pour tous, un seul objectif : être performant et compétitif. Et qu'importent les sacrifices que cela exige… Grâce à cette mentalité et à des efforts démesurés, la Corée du Sud est devenue l'une des économies les plus puissantes du monde, alors que le pays était l'un des plus pauvres il y a moins de 50 ans. Les piliers de cette incroyable réussite : les nouvelles technologies et l'innovation. Ce pays est aujourd'hui le plus connecté de la planète. Il s'est même transformé en laboratoire du futur. Dans les écoles, les tablettes ont remplacé les livres, les robots s'occupent des enfants, on clone les animaux domestiques et les champions de jeux-vidéos sont vénérés comme des dieux. Les multinationales, elles, construisent des villes entières pour leurs employés. Logements, écoles, loisirs : elles s'occupent de tout, contre une organisation militaire et 50-60 heures de travail hebdomadaire pour ses employés."
OECD Observer Korea 20th Anniversary edition October 2016   OECD library
My music playlist Goodbye SISTAR  |  My drama ost playlist nowadays  |   Par amour
'Cause you're a sky, 'cause you're a sky full of stars
I'm gonna give you my heart
'Cause you're a sky, 'cause you're a sky full of stars
'Cause you light up the path
I don't care, go on and tear me apart
I don't care if you do, ooh
'Cause in a sky, 'cause in a sky full of stars
I think I saw you
'Cause you're a sky, 'cause you're a sky full of stars
I wanna die in your arms
'Cause you get lighter the more it gets dark
I'm gonna give you my heart
I don't care, go on and tear me apart
I don't care if you do, ooh
'Cause in a sky, 'cause in a sky full of stars
I think I see you
'Cause you're a sky, you're a sky full of stars
Such a heavenly view
You're such a heavenly view
We will all die one day, we are just passing by.
Love people and use things. Because the opposite never works.
Relationships, you give what you can and you take what you need.
Let it go and get back on your feet.
Sometimes, ignorance is bliss.
I am still breathing today.
Tout groupe humain prend sa richesse dans la communication, l'entraide et la solidarité visant à un but commun : l'épanouissement de chacun dans le respect des différences.
There is a purpose for everyone you meet. Some people come into your life to test you, some to teach you, some to use you, and some to bring out the very best in you.
Give. But don't allow yourself to be used. Love. But don't allow your heart to be abused. Trust. But don't be naive. Listen. But don't lose your own voice.
People will disrespect you, lie to you, use you, and break your heart, but no one will ever hurt you more than you hurt yourself, by replaying those transgressions in your mind forever.
If you continue to believe as you have always believed, you will continue to act as you have always acted. If you continue to act you have always acted, you will continue to get what you have always gotten. If you want different results in your life, your must first change your mind.
Do not confuse my personality with my attitude. My personality is who I am, and my attitude depends on who you are.
Sometimes, my greatest accomplishment is just keeping my mouth shut.
Do the right thing, even when no one is watching. It's called integrity.
Life is about balance. Be kind, but don't let people abuse you. Trust, but don't be deceived. Be content, but never stop improving yourself.
You can tell a lot about a person by what they choose to see in you.
We often add to our pain and suffering by being overly sensitive, over-reacting to minor things, and sometimes taking things too personally.
I love when the honesty doesn't take a few drinks and liquid courage is simply the blood running through our veins.
It doesn't take a special person to put people down, nor does it require courage to be rude or effort to be inconsiderate. Be the wings to help others soar, not the anchor to hold them down.
That's the problem with putting others first, you've taught them you come second.
Life is the most difficult exam. Many people fail because they try to copy others, not realizing that everyone has a different question paper.
What's important is not who's faster. The ones who have more fun are the winners.
There's always room for improvement. There's no end to learning.
Pride is the path to destruction, and arrogance will make you fail.
Don't kill bees.
What are manners? Manners are good behavior and etiquette. In other words, how you treat another person.
Why do I have to listen to you? I'll do it my way, by my own principles.
La plus grande perte est de recevoir sans gratitude.
On ne parle qu'avec les mots que l'on a appris, on ne pense qu'avec les concepts que l'on connaît, même une personne omnisciente est limitée par sa boîte à outils.
Not Changing the World - Jesse Sprague       
But You Were the One in the Ring - Rebecca K. O'Connor
Codes: 
[TN: Tab] background-color:rgb(255, 195, 198);border-radius:1px;border:2px solid rgb(245, 233, 174);width:900px;  | Titre 3
[CP: b0] border-radius: 1px; border: 2px solid rgb(245, 233, 174); border-image: none; background-color: rgb(204, 204, 255);
[CP: b1t900] border:2px solid#ffc3c6; border-radius: 1px;background-color: #FFFDDA;background-image: url("");background-size: cover;