THIS IS CRACK. WATCH IT. BEST KDRAMA EVER
(it goes by the name of Strong Woman Do Bong Soon (힘쎈여자 도봉순))
Thank you NSSA artist for drawing my ninja! I feel so honored.
​For those of you who frequented my page, I was told I look like Pandamouse (the emoticon on LINE and Kakaotalk) so that was my previous icon.

Ninja Subtitling and Segmenting Academy (NSSA), Sandbox Graduate. Thanks to LaCruiser, Sandbox Guardian July 24, 2016! 
And then I became a Ninja Master on August 21, 2016

I AM A NINJA! as of March 2, 2017.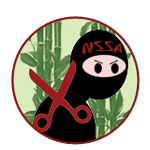 Thank you senseis of all levels: Mazza, Fizban65, BJohnsonwong, CGWM808, and amypun. These were my senseis from Levels 1-5. 
Thank you so much for your patience as I have not been the best at doing NSSA continually. 
Thank you for not giving up on me and cheering me on, NSSA. 


Now I plan on doing a teaching assistant fellowship in Korean. 
self-description: Korean history and language otaku. I do drive-by subtitling and editing (mid-80s-close to 100% as possible). Give me a pm if you want my help to finish a lagging episode especially if it already has Korean subtitles. I'll try to accomodate your request. I love love love background non-OST music. I strive to subtitle everything. 
Due to Viki's modifications to editor access, I cannot fill unless you add me to the team. I am trying to become a power segmenter to create a workaround. 

IF YOU SEE THAT THERE IS AN ERROR IN OR CAN IMPROVE ANY OF THE SUBTITLES OR HAVE QUESTIONS ABOUT COMPLETED PROJECTS, please let me know. I am always happy to have them fixed.
If there is any Chinese in the dramas below that you would like to fix, you're so very welcome here! 
*Proper viki protocol dictates you contact these people if you see a problem with a subtitle (by order of increasing power) translation editor(s)<chief translation editor < chief editor < channel moderator
Status: In school full-time. practicing segging if SOS'd I sub, or when I see things are at some high %. Going part-time on all projects
request: If you are on a team with me please please please subtitle things completely. I hate doing those kinds of edits and it makes me even slower. 
Spanish Shortcuts (credits: lupita311)
á -> Alt-160
é -> Alt-130
í -> Alt-161
ó -> Alt-162
ú -> Alt-163
ñ -> Alt-164
Resources:
Dictionary by National Institute of Korean Language 
National Institute of Korean Language website

For Korean historicals and 4 Character Proverbs: lovely spreadsheet made by Ajumma2
Another MUST have resource for Korean historicals is the Encyclopedia of Korean Culture (한국민족문화대백과사전) by the Academy of Korean Studies (한국학중앙연구소)
Documents run by the Academy of Korean Studies
Dictionary on rites
Dictionary on folk religions

A website that converts Korean into Romanized English
For Political, Legal, Police, and Business terms: another lovely spreadsheet made by Ajumma2
For corporate hierarchy translated into Korean, click this lovely daum link

VIKI Activities:
I'm currently on:
co-channel manager (with crazyjennster): Sister is Alive

as editor: Pied Piper, Flower in Prison, Beautiful Mind, Doctors, Hooray for Love, Suspicious Partner and Sister is Alive
While I sub: 
seg: Special Investigation Team, Surgeons, and April Star
Library Projects (off air) I'm on by order of activity are: New Heart, Hooray for Love, Medical Brothers, Beethoven Virus, Super Rookie, and Get-it-Beauty
I'm having a blast getting subs no one else got!
Future Projects:
More sheets to supplement our growing library (planned: math/science, music)

Title request form link
Completed Projects: 
1. Merchant: Gaekju 2015 (객주: 장사의 신) as subtitler
2. Marriage Contract (결혼계약) as subtitler 
3. Goodbye Mr. Black (굿바이 미스터 블랙) as one of the two main translation editors 
4. Memory (기억) as main translation editor 
5. Jackpot (대박) as translation editor and subtitler 
6. Entertainer (딴따라) as subtitler  
7. Lucky Romance (운빨로맨스) as subtitler and spot translation edits
8. Mirror of the Witch (마녀보감) as subtitler and translation editor  
9. Beautiful Mind as subtitler and spot translation editor
10. Bubblegum (풍선껌) as subtitler
11. Pageturner (페이지 터너) as translation editor
12. W as translation editor
13. Second to Last Love (끝에서 두번째 사랑) as subtitler
14. FantastiC as segmenter
15. Jealousy Incarnate (질투의 화신) as segmenter 
​16. Legend of the Blue Sea (푸른 바다의 전설) as translation editor and subtitler
​17. Oh My Geum Bi as subtitler
18. Queen Inso (인수대비) as subtitler
19. Our Gapsoon (우리 갑순이) as segmenter and subtitler
20. Solomon's Perjury (솔로몬의 위증) as subtitler and spot translation editor 
21. The K2 as segmenter and subtitler
22. Will You Be There? (당신, 거기 있어줄래요?) only translation editor and only segmenter 
23. Our Gap Soon (우리 갑순이) as segmenter
24. Across the Ocean to See You (漂洋过海来看你) as segmenter 
25. Strong Woman Do Bong Soon (힘쎈여자 도봉순) as translation editor
26. Saimdang, Light's Diary (사임당 빛의 일기) as subtitler and translation editor
Korean Dramas I've enjoyed: (if you ever need me to sub or edit these let me know)
Best overall: Bridal Mask (각시탈) 
Best historical: Great Queen Seon Deok (선덕여왕), Jackpot (대박)
Best to marathon: Any reply series 
Best to binge watch: 응7 (Reply 1997)
Most beautiful. My child: Memory (기억)
Best OST: East of Eden (에덴의 동쪽) (currently fixing) 
Best romcom: The Greatest Love (최고의 사랑)
Best historical cinematography: Empress Ki (기황후) 
Best thriller: TEN
Best cute: Sungkyunkwan Scandal > Emergency Couple (응급남녀)
Favorite K drama couples: Angel Eyes>Time I've Loved You (너를 사랑한 시간)  
Most want to watch again medical: Surgeon Bong Dal Hee (외과의사 봉달희) > New Heart
Medical with the most lasting impression: Brain
Ones that touch upon societal issues in no particular order: On Air, Assembly, Incomplete Life (미생), Pied Piper

Korean Dramas I've watched: Too many since 1992
Taiwanese Dramas: 
Fated to Love You 
It Started With a Kiss (watched 3x) 

Chinese Dramas:
Legend of MiYue (did not finish) ==> pm me if you found stuff with English subtitles for me
Imperial Doctress (did not finish) 
Bubujingxin (working...) 
Legend of Zhen Huan (SO PRETTY!) 
The Interpreter (stopped)
Nirvana in Fire (skimmed to the end. Joined as a Korean subber :D)
Love Me If You Dare (working....)
The Disguiser (skimmed)
Empress of China (skimming...)
Chronicle of Life (so cute!!!) 
When A Snail Falls in Love (I'm obsessed!!)
Across the Ocean to See You (SO PRETTY!!!!)

Quirks of the modern Korean Language:
- boat = ship = ferry = origami boat (배)
- doctor's office = hospital = cancer institute = urgent care center = walk-in clinic (병원)
- bar = sports lounge = pub = hof (술집)
- When someone repeats themselves it is the same 4x. However in other languages (e.g. English) each time it may be reiterated differently 
- 80-90% chinese cognates (brush up on those 4 character proverbs here (Courtesy of Ajumma2) or here)
- We say our mother, our father, our sister, our brother, but my younger sibling. 
- It is the reverse sentence order of the Romance languages: object, verb, followed by nouns. 
- Many times there are implied subjects and objects. 

Current To Be Watched List:
1. Jackpot
2. Reply 1988
3. Six Flying Dragons
4. Defendant 
5. I Have a Lover 
6. Angel Eyes 
7. Beautiful Mind
8. Hwarang 
9. Legend of Chusen  
10. Jang Bori is Here
11. Because of Meeting You