English to French
(INFINITE EFFECT in PARIS - 07/10/215 ♥)
Back in the world of translation !
Sorry if I don't answer to your message, I'm kinda busy with my job for the Summer.
Starting to think that I need to change this presentation... Soon, soon.
Yeah, I wanted to write this in English, but I'm too lazy to change the pictures that I made... ~
CM of "My Ex Man" ♥
--------------------------------- ABOUT ME : ---------------------------------
French student girl in her twenties who's learning English since 14 years and Korean without a professor.
Volunteer for translating since January 2017.
Wishing so hard that all subtitles in French will be perfect ; yeah, I'm not realistic...
Certification of "Projet Voltaire" since 2016 ; means that I've a good French (grammar, spelling...)
Big fan of K-Culture ; well, in real, of all cultures.
​
---
--------------------- TRANSLATION AND PROJECTS : ---------------------
As the Channel Manager, French moderator and subber :
Synopsis : Lee Ching Ai (aka Rainie Yang), who is about to turn to 30 years orld and working as a paparazzi at a magazine compagny. She wowed to ge married at age 30 and, finally, when she was going to marry her boyfriend, she reunited her ex-boyfriend, Huo Da Le (aka Blue Lan), the person she's been trying so hard to ignore in her whole life. Meanwhile, she realized taht she is the only one who can see this "hal-transparent". Is he dead ? Is he a ghost ? Plus, the weird thing is that he is back at age of 18. Those two had not contacted each other for 10 years until now. The spirit of Huo forced Lee to reach an agreement to make him stay at her place. Is there gonna be a "so-called" second chance story happen to them ?
Broadcasting : 18/05/2018 to 10/08/2018
---
_
Voice  (@ l'équipe à l'écoute / translator)
Synopsis : Moo Jin Hyuk (aka Jang Hyuk) was a popular detective who solved major cases, but after his wife was murdered by a serial killer, his life spiraled down. He is filled with guilt that he was not able to protect his wife and he secretle looks for her killer. Meanwhile, Kang Kwon Joo (aka Lee Ha Na) graduated at police academy with top marks. She began to work at an emergency 112 call center. Working there, a brutal murder case takes place and her father, who was a police sergeant, went to the crime scene, and is killed there. Kwon Joo hears what happened over the phone. Afterwards, she goes to the U.S to study and comes back to Korea as a professional voice profiler. Detextive Jin Hyul and Kwon Joo solve cases together. Chasing a serial killer responsible for the deaths of their family member. 
Broadcasting : 14/01/2017 to 12/03/2017
/!\ The end was put off the 16/03/2017 because of the New Year and the Lunar Calendar /!\
_____________________________________
Suspicious Partner  (@ l'équipe des partenaires suspects / translator and editor in test)
/!\ Viki has obtain the licence for this drama, but be aware that the deal was to cut the episode in 2 : so the 1st and the 2nd episode that you see on Viki are, in real, the 1st episode /!\
Synopsis : Eun Bong Hee (aka Nam Ji Hyun) is a judicial apprentice at the Judicial Research and Training Institute. Ji Wook (aka Ji Chang Wook) is a prosecutor, and Bong Hee had the chance to do a training in his office. But, during this time, she is accused to have killed her ex-boyfriend, Hee Joon (aka ChanSung). Ji Wook helps her and tells to his friend, Ji Eun Hyul (aka Choi Tae Joon) to be her lawyer. Two years after this story, Eun Bong Hee and Ji Wook meet during a trial ; Ji Wook changed his work for a private lawyer. Between old relation with his ex-girlfriend Cha Yoo Jung (aka Nara), his past and the case of Eun Bong Hee, Ji Wook is determined to find out the guilty of the death of Hee Joon, to save Eun Bong Hee of this.
Broadcasting : 10/05/2017 to 13/07/2017
_____________________________________
Synopsis : 
Broadcasting : 09/11/2016
_____________________________________
Synopsis : A romance takes place between Ha Baek (aka Nam Joo Hyuk) and the Psychiatrist So A (aka Shin Se Kyung).
Broadcasting : 03/07/2017 to 22/08/2017
_____________________________________
The King Loves (@ l'équipe Sa Majesté des Minions / translator)
Synopsis : Won (aka Siwan) is a crow prince of Goryeo. He has a pretty appearance, but he also has a lust for conquest. He is best friends with Wang Rin (aka Hong Jong Hyun) who comes from a royal family and is his bodyguard. Beautiful Eun San (aka Yoona) appears in front of the two young men. She is the daughter of the richest man. The three become good friends, but things change after Wang Won and Wang Rin both fall in love with Eun San.
Broadcasting : 17/07/2017 to 19/09/2017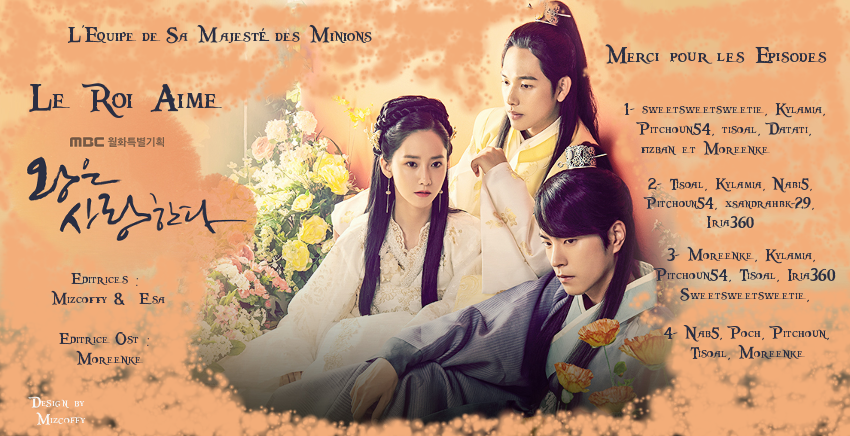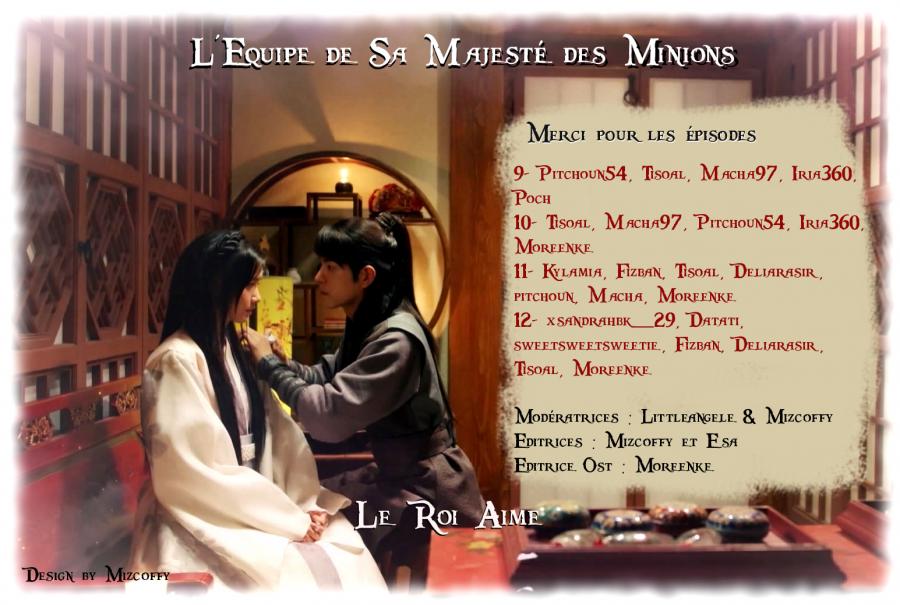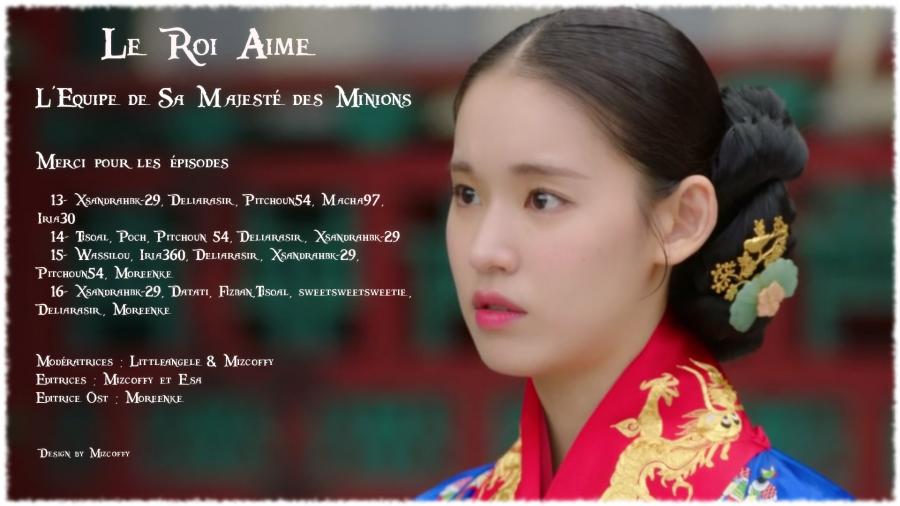 _____________________________________
Synopsis : A woman (aka Bae Suzi) can see accidents that place in the future through her dreams. A prosecutor (aka Lee Jong Suk) struggles to stop those dreams from becoming real. 
Broadcasting : 27/09/2017 to 16/11/2017
-------------------------- FAVOURITE DRAMAS : --------------------------
It didn't change because I stopped to watch dramas for my last year at University. Too much dramas to look, I'm so sad TT.TT
(it's only my tastes, be aware of that ! And that was too hard for me to do a top 10 haha ; the list grows every day, eomeo)
1. Goblin (no comment)
2. Moonlight Drawn By Clouds (and I'm not a big fan of historical drama)
3. Strong Woman : Do Bong Soon (bromance. Just bromance. And Park Hyung Sik)
4. Weightlifting Fairy Kim Bok Joo (swaaaaag)
(... Yeah, I know... You might noticed that I'm as everyone, liking those dramas and actors... BUT THEY WERE SO DAMN GOOD)
5. Fight For My Way (I loved it so much, I can't, that's too funny, too cute, too many things are awesome inside it. I really appreciated it !)
6. W : Two Worlds (good drawings, loved it !)
7. Descendant of the Sun (well, I know my classics !)
8. Voice (badassbadassbadass)
9. Healer (I was only at the first episode and I already knew that I would love this drama)
10. Who Are You ? School 2015 (SungJae is awesome. Kim So Hyun too. And Nam Joo Hyuk too. Aish. TOO MUCH AMAZING THINGS RIGHT THERE)
11. Perfect Match (Ivy Shao is way too cute, she killed me !)
12. Bring it on, Ghost ! (love so much the ending)
(I loved them so much ♥)
14. Suspicious Partner (so funny, this actor killed me everytime)
15. Madam Antoine (afjqzfhizqfh)
(I hate him. But love him. Do you understand my feelings ?)
16. Master's Sun (ga !)
17. It's Okay, That's Love (That was just... Wow.)
18. Mirror of the Witch (AND THERE IS NO F*CKING REGULAR ROMANCE THAT WE SEE IN ALMOST ALL DRAMAS !)
19. Reply 1988 (way too long, but way too short. Do you understand me ?)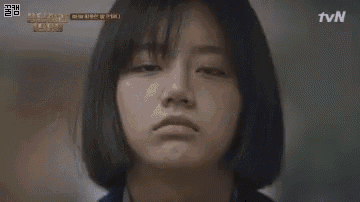 20. Fated to Love You (you will laugh so hard)
21. Blood (I cried so hard, eomeo)
22. Marriage, Not Dating (just, because)
23. Birth of Beauty (I love so much this actress)
Rich Man, Poor Woman (totally in love with SuHo, I didn't expect him to play like that. Plus Ha Yeon Soo is just amazing, seeing her after Monstar is just perfect ♥)
_
---
(MONSTA X : Beautiful in Europe - Paris, 09/08/2017 ♥)